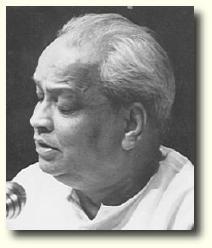 Kumar gandharva

It has been 10 years since I started listening to him. I never get tired of listening to Kumar Gandharva. In fact, after listening to him for so long, I feel he has become my teacher. Many a times, I feel that he is the dronacharya and I am ekalavya.

His music is very, very different. Not many people like his music, not many of them appreciate it. I listened to him for the first time at my Grandpa's place. I was busy playing with my cousins' gang and I heard him singing. I was mesmerized and I immediately went to Grandpa and asked the name of the singer. I felt that his music was so unique and it held all my attention. But I kept wondering about the pauses he gave in between his singing- very minute pauses that would be noticed by keen music lovers. So I started my research about Kumarji. I got to know that he was affected by an illness which left him with only one lung. It seems doctors had advised him not to sing. But he did not let his illness stop him from singing. He developed a new style and went ahead. I also read that he was inspired by folk songs so you can find a tinge of folk songs in his music.

His music evokes spirutuality in me. I feel that I am sitting in a temple listening to his music. His music has the capability to leave one's mind in a perfect rapture.

I had a glimpse of his recorded music concert on DD. And then I got to know that he had passed away. I still feel very remorseful thiking of it. If he were alive, I am sure I would desert all my other aspirations and become his disciple.

But his music will always be there. That is a greatness of a musician, isn't it? Musicians will always be immortal through their music. Yep, Kumarji too will always be immortal. And whenever I listen to his music, I know he is alive, very much alive in his music.